Our Companies
Union Mutual Companies is comprised of three insurance companies and one special purpose finance company:
Union Mutual Fire Insurance Company was organized in 1874 in Montpelier, Vermont. As a mutual company, it has no shareholders and is "owned" by its policyholders. It is licensed to sell its insurance products in the states of Vermont, New Hampshire, Maine, Connecticut, Massachusetts, Rhode Island and New York.
Community Mutual Insurance Company (CMIC) is an affiliate of Union Mutual. CMIC is a non-assessable advance premium co-operative insurance company licensed to sell insurance products in New York.
New England Guaranty Insurance Company, Inc. (NEG) is a wholly-owned subsidiary of Union Mutual and is licensed to sell insurance products in Vermont, New Hampshire, Maine, Connecticut, Massachusetts, Rhode Island and New York.
Union Guaranty Financial Services LLC is a wholly-owned specialty purpose finance subsidiary of Union Mutual.
Today the Union Mutual Companies are a regional property and casualty insurance carrier with a broad product base, serving families and small businesses throughout New England and New York. All three companies are rated "A" (Excellent) with Stable Outlook by AM Best.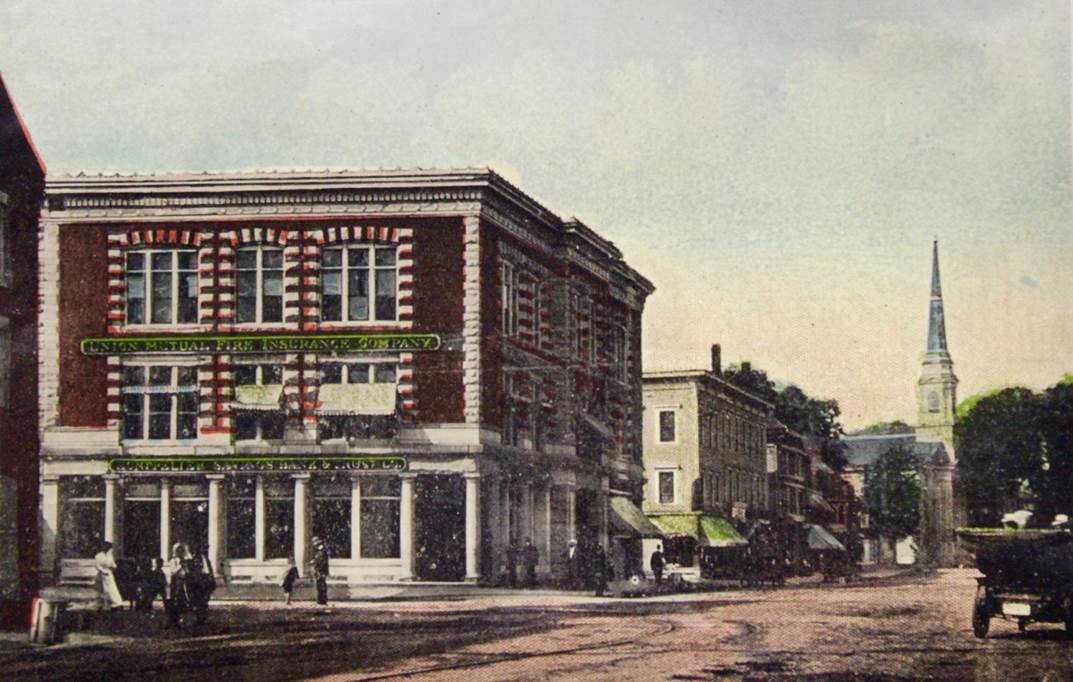 Adapted From Article by Elliot Martin (American Historical Press)
The Vermont Legislature granted Union Mutual Fire Insurance Company its charter in 1874, primarily through the efforts of a local lawyer named Samuel Wells. At the time, Sam Wells was the president of another insurance company, the Farmers Mutual Insurance Company of Montpelier. Wells' basic view was to provide mutual insurance protection for Vermont property owners and Vermont companies which could not be insured in the Farmer's Mutual, since it only served the agricultural community. With the establishment of the Union Mutual, it was decided to discontinue the Farmers Mutual. As a result, Vermont's second oldest mutual fire insurance company was off and running, ready to serve customer needs throughout the state of Vermont.
First President & Policy
Union Mutual's first president was E.B. Campbell and its first policy was issued on July 28, 1875 to Marcus D. Gilman (who also happened to be the Union Mutual's vice president) on his home located at 1 Baldwin Street in Montpelier. This home is now used as office space by the Legislative Joint Fiscal Office, next door to the State Capital.
During its first year of business, the Union Mutual wrote 547 policies, insuring $640,447 in value, and received cash premiums of $4,093.33. It paid expenses of $1,140.38, policyholder losses of $1,128.91 and ended the year with a working balance of $1,823.94. These results reflected the Union Mutual's immediate financial success as a result of its frugality of business practice, despite a raging fire in Montpelier in 1874 that caused some $200,000 worth of damage in the city. The Union Mutual Fire Insurance Company was definitely off and running. By World War I, industrialization and the advent of the automobile had taken hold in the Green Mountain State. The wheels of industry brought new corporations, progress and change.
In 1917, the first dividend policy was issued. This new form of policy eliminated the premium note and provided for dividends to policyholders based upon the Company's financial success. Through the 1920s Union Mutual was strictly a fire insurance company. Over the next two decades, additional types of protection were added and finally combined with a homeowner's package policy in 1950. By its 50th anniversary in 1925, the Union Mutual had accumulated assets of $220,143 and had premium revenues of $379,820 and surplus of $78,142.
Growth
Union Mutual began its operations in the former offices of the Farmers Mutual in the Reed Block in Montpelier. Eventually, the Company needed additional space and moved first to the Union Block and subsequently to the Post Office Block. However, by 1900 it had outgrown its offices and moved into a new, "permanent" home on the second floor of a building located at the corner of State and Main streets in downtown Montpelier, the current home of TD Banknorth. The Company purchased this building in 1925 and remained there until it constructed its current location at 139 State Street in 1958. These facilities were subsequently expanded and remodeled in 1990 with a four-story addition.
For most of its years in business, Union Mutual operated only in the State of Vermont. In 1954 and 1955 the Company commenced writing insurance in the adjoining states of Maine and New Hampshire. In 1959 operations began for developing business through general agents in the states of Florida and Texas. The Texas business developed at a much faster rate of growth than it was believed advisable for Union Mutual. As a result, the operations in Texas were subsequently discontinued in 1964. Concerns about exposure to catastrophic windstorms and hurricanes in the State of Florida led the Company to discontinue business there in 1968.
In 1962 Union Mutual acquired the State Mutual Insurance Company. This company was originally chartered in Rutland in 1898 and in 1901 had acquired the stock of another company known as the New England Fire Insurance Company of Rutland, Vermont. The Union Mutual changed the name of the State Mutual to "New England Guaranty Insurance Company, Inc.," so that together with the Union Mutual Fire Insurance Company, the two entities formed the Union Mutual of Vermont Companies. In 1979 Union Mutual began writing insurance policies in the State of Massachusetts, followed by Connecticut in 1986 and Rhode Island in 1987. Also in 1987, the Company participated in a joint venture to satisfy the automobile markets by creating the Champlain Casualty Company. In 1991, the Company obtained its license to write business in the State of New York.
Logo
Although it was no longer strictly a fire insurance company, in 1967 Union Mutual adopted as its emblem an antique torchbearer's lamp, once used to light the way of volunteer fire brigades. This logo has long been a symbol of service and dependability.  Our logo was updated in 2016 with a modern lantern design to reflect our dedication to our longstanding traditions while staying at the cutting edge of technology.
The Union Mutual lantern continues to lead with the stability of a respected Company entering its third century of service and the light of a new and progressive outlook. Our logo represents our continued commitment for leadership in protection and service.

Affiliations
The Company approved an affiliation with Community Mutual Insurance Company effective November 18, 2013, to further expand the footprint in New York State.
Today the Union Mutual of Vermont Companies is a regional property and casualty insurance carrier with a broad product base, serving families and small businesses throughout New England and New York.